Easy Vegan Summer pudding: a simple but stunning summer dessert that makes the best use of all the lovely soft berries we have right now. Naturally vegan and best served with a little plant-based pouring cream.
Jump to:
Easy vegan Summer pudding. Eating food is not about rigidity; it is about enjoying a life-giving pursuit. The lovely, lovely summer pudding remained in the fridge that night because we were much too full and content on the first two courses, so we decided to have it for dessert the following day.
What is a Summer Pudding?
A summer pudding is a joy to make, particularly if you have picked the fruit yourself (see below) because it is so colorful and simple. I used redcurrants, blackcurrants, blackberries, strawberries, and raspberries (of which I picked only the blackberries myself, unfortunately), and seeing them simmering in the pan, all their juices being released in a red rainbow, makes you thankful for this time of the year. The misshapenly cut pieces of bread are wodged into the pudding basin after being dipped into the fruit juices to form an airtight layer and the fruit is then poured in and a final pink stained bread lid is put on top. It is weighted down and refrigerated for several hours, preferably overnight, after which time it is nervously unmolded. To be honest, if I can produce such a piece of food art with my clumsy fingers and impatience, then anyone can.
I served it with a whipped plant-based cream, sweetened with icing sugar and vanilla (tempting to eat this alone as it is!) and, whilst the ever-present flies drove everyone mad as they frantically tried to get to the sweet fruit that they could sense, it was a success and one that I would consider repeating again.
Ingredients
White Bread. Crusts off. I recommend using a thick or medium cut white loaf.
Fruit. Because you cook the berries down a little, you can add some cubed apple if you really want, but I love to use a mixture of all berries.
Sugar. Use a little sugar to taste when cooking the berries down. Depending on the time of year or where they're from, they can either be deliciously sweet, or astringently tart.
Cream to serve (I love Elmlea Plant-Based)
Method
Gently heat the fruit along with sugar in saucepan, only until the sugar has melted and the fruits have started to break down. Place to one side.
Remove the crusts from your bread and line your pudding dish.
Start by placing a slice of bread in the bottom of the basin.
Then, pressing the bread firmly, line the sides of the basin, ensuring that no gaps are present. It is fine to overlap the bread a little.
Once lined, pour the fruit into the basin.
Using the remaining bread slices, cover the top of the pudding.
Take a small saucer and place it on top of your pudding, then place a heavy can on top. This will help the pudding to firm up.
Refrigerate overnight.
How to Unmold a Summer Pudding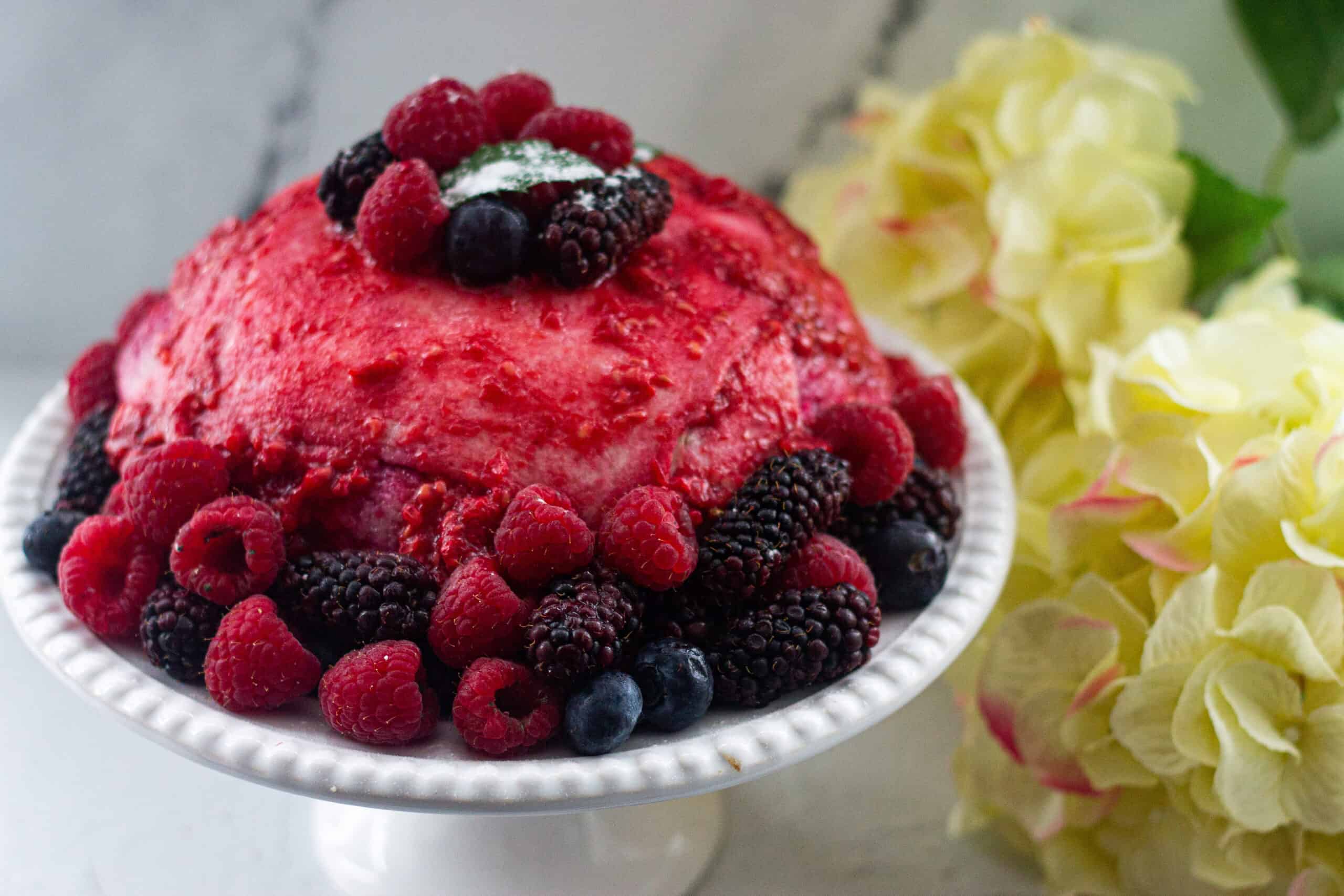 Gently use a spatula and run it around the outside of the pudding, loosening it from the basin.
Place your serving dish on top of the pudding basin and then quickly but carefully turn everything over so that the serving dish is now on the bottom, and your pudding is on top of the dish!
If you carefully lift your basin up, the pudding should unmould itself using gravity, onto the serving dish.
Try my other delicious vegan treats this summer
📋 Recipe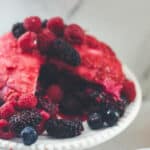 PRINT
A naturally vegan pudding, filled with beautiful red berries.
Equipment
1 1 litre pudding basin

lightly buttered
Ingredients
10

slices

White Bread

crusts removed

600

g

mixed berries

I use a mixture of raspberries, blackberries and redcurrants but don't be too hung up on the ratios

½

cup

Sugar

I use golden caster sugar
Instructions
Remove any stems or leaves from your fruit and place in a large saucepan.

Add the sugar and gently bring up a simmer.

Simmer for only 3 or 4 minutes, allowing the sugar to dissolve and the fruit to start breaking down. Remove from the heat.

Taking one of your slices of bread (crusts removed), press it firmly into the bottom of your prepared pudding basin.

Using the 4 or so slices, line the sides of the basin, overlapping to form a nice tight seal. Make sure there are no visible gaps.

Now pour in the fruit, making sure you leave about a centimetre from the top of the basin.

Cover the top with the remaining slices of bread.

Place a clean saucer over the top of the basin and place some heavy cans on top. This will help the pudding to firm up.

Refrigerate overnight, preferably, but at least 4 or 5 hours.

To turn out, remove the saucer and cans and replace this with your serving dish.

Turn the plate and pudding basin over so that the plate is now at the bottom, and gently lift up the pudding basis so that the pudding is unmoulded.

Cut into wedges and serve with cream.
Nutrition
Calories:
211
kcal
|
Carbohydrates:
47
g
|
Protein:
3
g
|
Fat:
2
g
|
Saturated Fat:
1
g
|
Polyunsaturated Fat:
1
g
|
Monounsaturated Fat:
1
g
|
Trans Fat:
1
g
|
Sodium:
141
mg
|
Potassium:
106
mg
|
Fiber:
4
g
|
Sugar:
29
g
|
Vitamin A:
62
IU
|
Vitamin C:
3
mg
|
Calcium:
72
mg
|
Iron:
1
mg
Tried it and Loved it?
Mention @sweeterthanoats or tag sweeterthanoats!