Vegan Nanaimo Bars - chocolate, coconutty and custardy - what's not to like? A diary-free version of the classic Canadian bar!
PIN my Vegan Nanaimo Bars to make later
I made a batch of these for my work colleagues and, whilst they loved them, they could not get seem to remember their name of them! No matter how many times I enunciated "Nu-Nay-Mo" to them, they were rechristened with any number of variants: nomo bars, nanny bars, nonomo bars.
Jump to:
What are Nanaimo Bars?
The actual etymology of the Nanaimo Bar begins in British Columbia, Canada, from the city of Nanaimo. Nanaimo is a small city on the East Coast of Vancouver.
The Nanaimo Bar first appeared in print in 1953 and has remained popular, partially due to its absolute deliciousness, but also because it is a simple, no-bake dessert.
It may have been made much earlier than the 1950s, but it wasn't until then that it become known as the Nanaimo Bar.
These are a rich but delicious treat best served cut into small pieces.
This classic Canadian treat is a bar of three layers: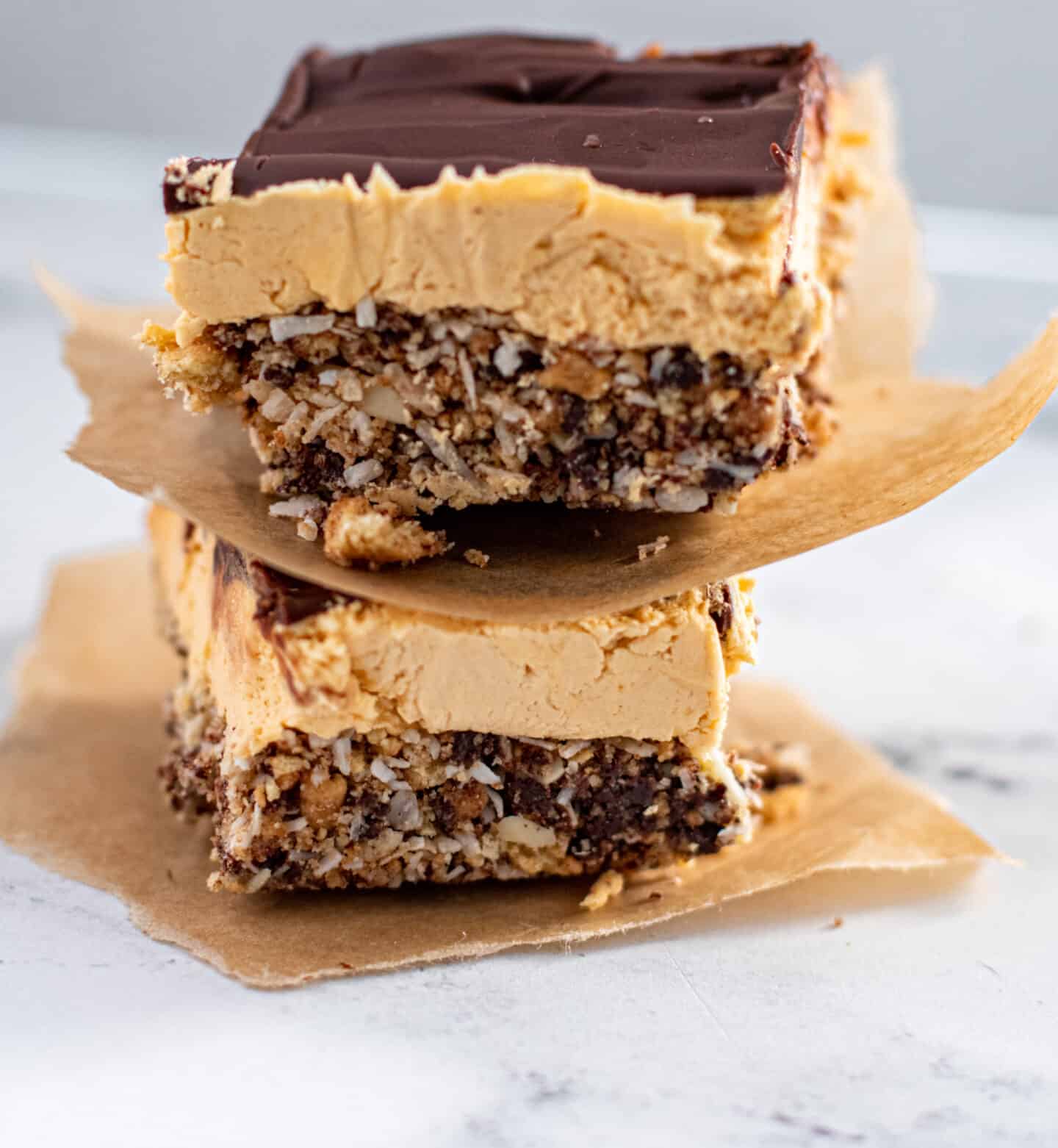 Bottom Layer: the chocolate coconut base comprising: cocoa powder, desiccated coconut, graham cracker crumbs (although here we are using vegan Digestive Biscuits, as we don't have Graham Crackers in the UK), butter (of course, we use vegan), and sugar.
Middle Layer: this is the layer of custard buttercream, using bird's custard powder, confectioners (icing) sugar, more butter, and, for this variant, I have used peanut butter. I also added a little flaky sea salt to counter the sweetness of everything else in this custard buttercream.
Top Layer: melted chocolate mixed with a little more butter to make a rich chocolate ganache. This is poured over the other two layers, left to set up, and then cut into squares.
Ingredients and suggested modifications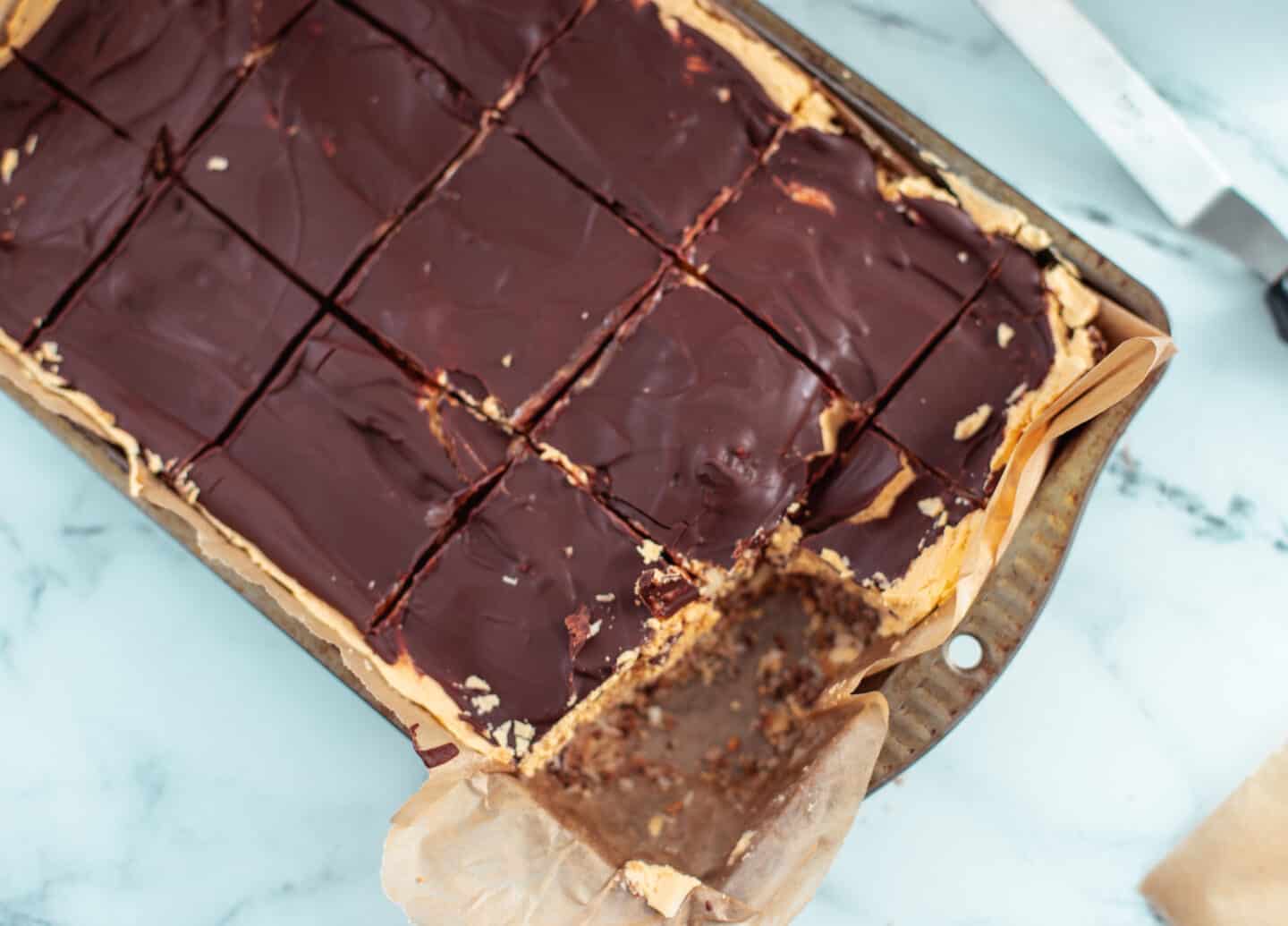 Cocoa Powder. I use dark cocoa, like Green and Blacks. You could use cacao powder too.
Digestive Biscuits. Tesco does a budget version that is completely vegan and cheap. I know they are not a replacement for Graham Crackers, however, not only are graham crackers not vegan, we can't get them in the UK!
Coconut. I use desiccated coconut. If you don't like coconut, use more digestive biscuits instead.
Chopped nuts. I buy a bag of pre-chopped. You can omit this completely.
Vegan Butter. Use whichever plant-based butter you prefer. Make sure it is at room temperature, whichever stage you use it at.
Sugar. I like to use caster (superfine) sugar.
Note: the original recipe uses a beaten egg in the base, as an additional binder, I have just omitted this completely and increased the butter slightly.
Birds custard powder. Some people replace this with powdered milk in non-vegan versions, so you could certainly try with coconut or soy milk powder.
icing sugar. Make sure you sift it.
Heavy Cream. Well, we don't have heavy cream here, I guess the nearest we have is double cream. I use Alpro plant-based.
Peanut Butter, optional, so omit without modification to the rest of the ingredients. I use smooth.
Vanilla Extract
Pinch sea salt: optional
Dark Chocolate. I use Callebaut but use your favorite vegan dark chocolate chips.
(This is ONLY a list of ingredients for the recipe; please see recipe card below for complete printable recipe. Or if you use the JUMP TO RECIPE at the top of the page, it will take you directly to the complete recipe.)
How do you make Vegan Nanaimo Bars?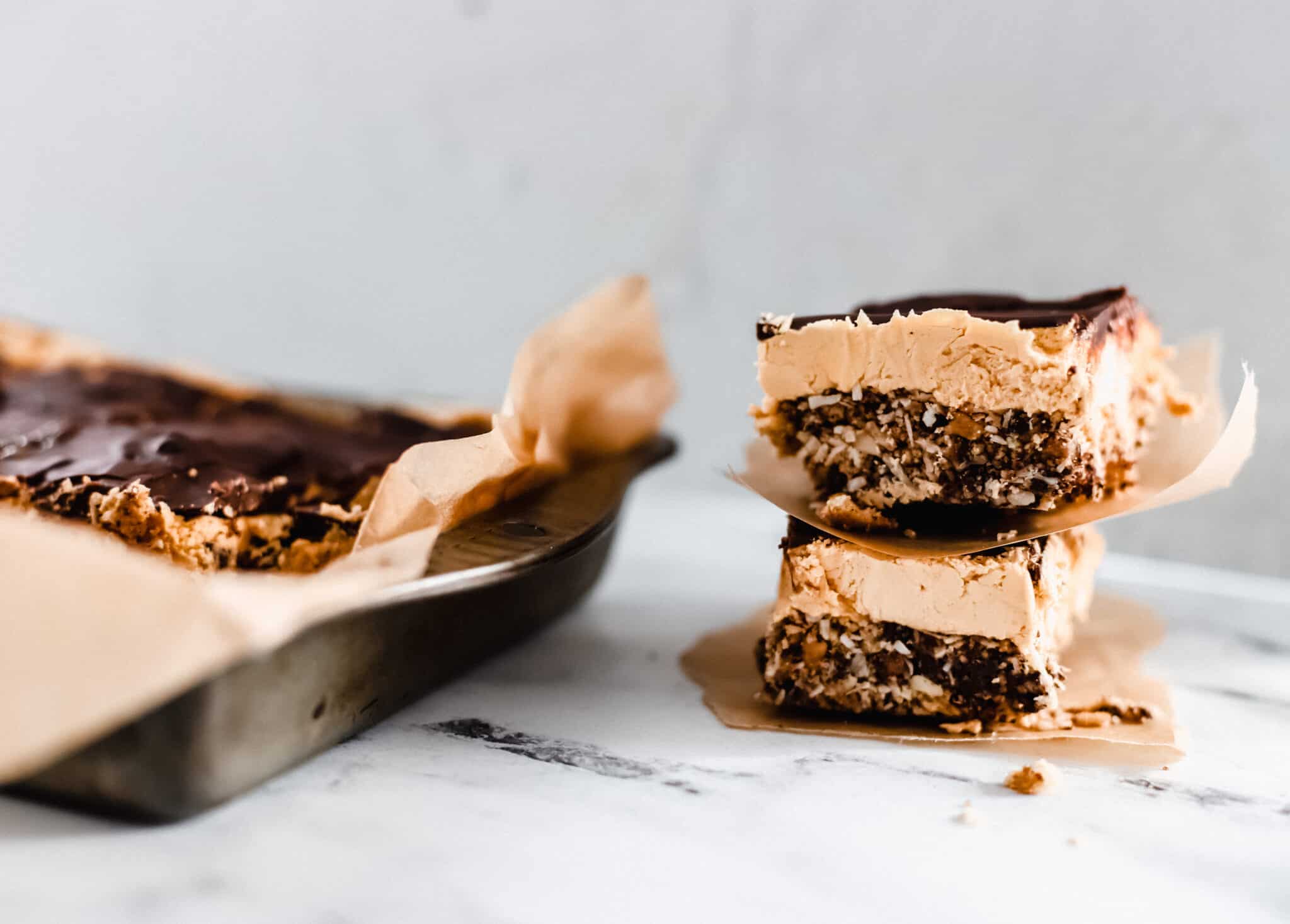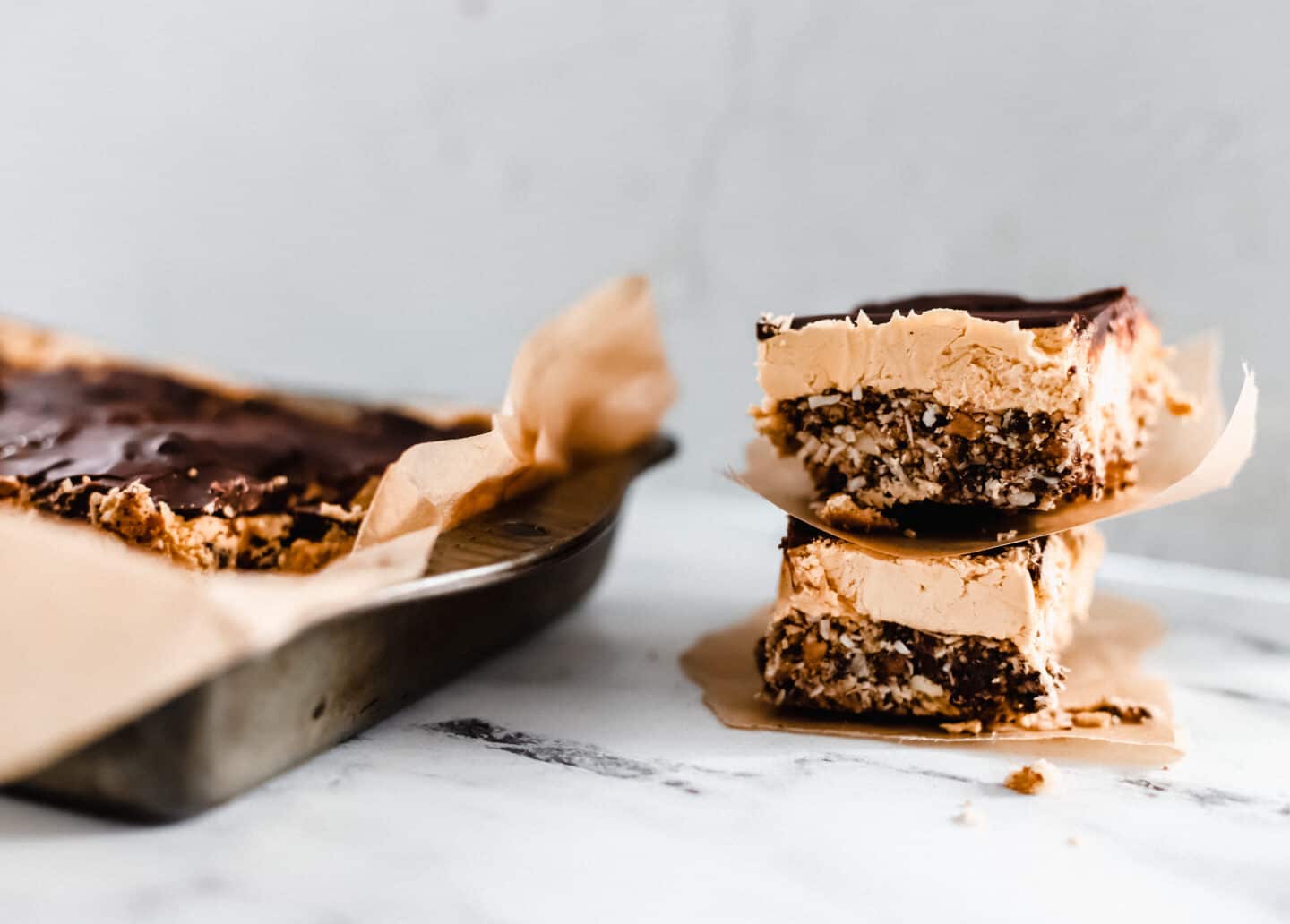 These are very easy to make, but you just need a little time. I like to prepare mine over two days, making the base one day, and chilling it overnight.
To make the base layer
Turn your digestive biscuits into crumbs. I use a mini chopper for this, but you can put them in a ziplock bag and bash the heck out of them!
Add the digestive crumbs, coconut, and nuts to a large bowl and mix well.
To make the base layer, melt the butter, sugar, and cocoa powder in a small saucepan, over medium-low heat. Because of the nature of vegan butter, the mixture might split and look lumpy. Don't worry. Whisk as best you can, then pour over the dry ingredients in the bowl.
Using a spatula, take your time and mix well. You will know if the mixture is ready because it will stick together when you press it with the back of the spatula.
If you find that your mixture seems too crumbly, melt another 10 grams of butter and stir that it.
Pour this mixture into a lined 9" brownie pan and press down firmly.
Chill for at least 3 hours, overnight is better.
To make the buttercream layer
In a mixing bowl, add the softened butter, peanut butter (if using), vanilla extract, then sift in the custard powder and icing sugar.
Use an electric hand whisk and mix well, until you have a thick, creamy custard filling.
Spread this over your biscuit base in an even layer and chill for another 30 minutes or so.
To make the Chocolate Ganache Layer
Finally, make the decadent chocolate layer. I like to melt chocolate and butter in a small heatproof bowl in the microwave in blasts of 20 seconds to start and then 10, mixing in between, until you have a thick, glossy mixture.
Pour this over the custard layer, spreading smoothly with a spatula, then chill again.
Now you can cut them into squares! I use a sharp knife, run under the hot tap then dried, to slice through the chocolate layer without it cracking.
Store in a tin in the refrigerator for about a week.
Try my other delicious vegan chocolate treats
📋 Recipe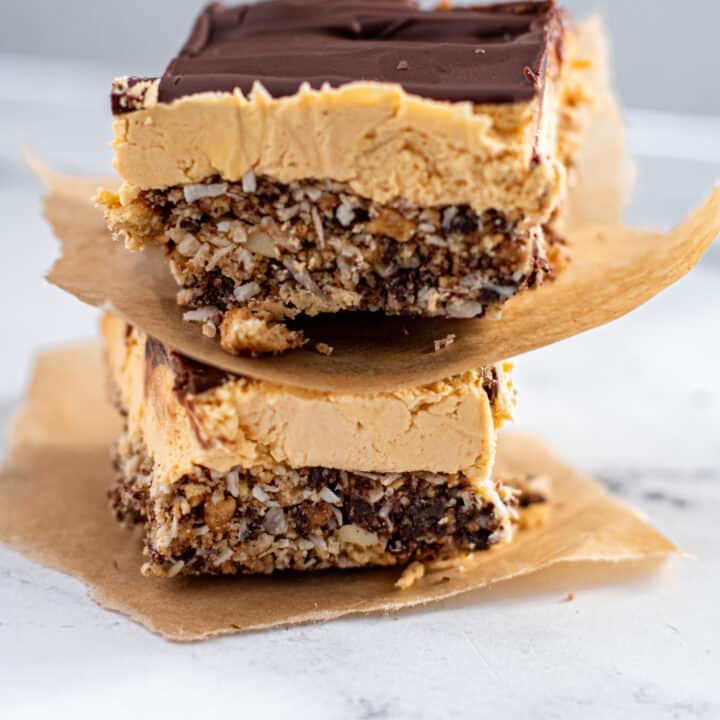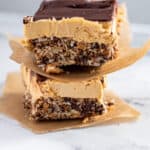 PRINT
Vegan Nanaimo Bars Recipe
How to make the sweet, chewy, chocolatey treat
Ingredients
Base
200

g

Digestive Biscuits

or, more traditionally, use Graham Crackers, blitzed into crumbs

150

g

Butter

vegan

4

tablespoon

Cocoa Powder

50

g

Sugar

100

g

Desiccated Coconut

50

g

Nuts

chopped, or use another 50g coconut
Custard Layer
100

g

Butter

vegan, very soft

4

tablespoon

Cream

Plant-based, I use Alpro

50

g

Peanut Butter

smooth, optional

4

tablespoon

Custard Powder

I use Birds, which is vegan

¼

teaspoon

Sea Salt

1

teaspoon

Vanilla Extract

250

g

Icing Sugar
Chocolate Icing
150

g

Dark Chocolate

I use Callebaut

50

g

Butter

vegan
Instructions
To make the base
Mix the biscuit crumbs, coconut and nuts in a mixing bowl

In a small saucepan, gently melt the butter, sugar and cocoa powder. Don't worry if this mixture splits, you'll be mixing it into the biscuit/nut/coconut in a minute.

Whisk gently, then pour over your biscuit/coconut/nut mixture, and using a spatula, mix well, until everything seems well coated.

Refrigerate for at least a couple of hours.
Custard Layer
Add all the custard ingredient layers to a mixing bowl, and, using a hand-whisk, blend until thick and smooth.

Using a spatula, spread over your chilled biscuit base.

Refrigerate for another 10 minutes or so.
Chocolate Icing
In a small microwaveable bowl, add the chocolate and butter.

Microwave for about 30-40 seconds until melted. Mix until smooth and amalgamated.

Pour over the custard layer and spread to coat, using a spatula.

Chill until the chocolate is set.
Nutrition
Nutrition Facts
Vegan Nanaimo Bars Recipe
Amount per Serving
% Daily Value*
* Percent Daily Values are based on a 2000 calorie diet.
Nutritional Information Disclaimer
The automated nutritional information on my recipes can often be inaccurate due to the limitations within the programming. For exact measurements, there are lots of apps and websites that can calculate this information more accurately.
Tried it and Loved it?
Mention @sweeterthanoats or tag sweeterthanoats!