Easy and Yummy Dairy-Free Walnut and Maple Loaf Cake
This post contains links to affiliate websites, such as Amazon, and we receive an affiliate commission for any purchases made by you using these links. We appreciate your support!
Based on a vintage recipe from an old Gourmet magazine, this updated loaf cake is sweetly smoky from the flavours of walnuts and maple syrup without being too sweet. This makes the perfect loaf cake for fall!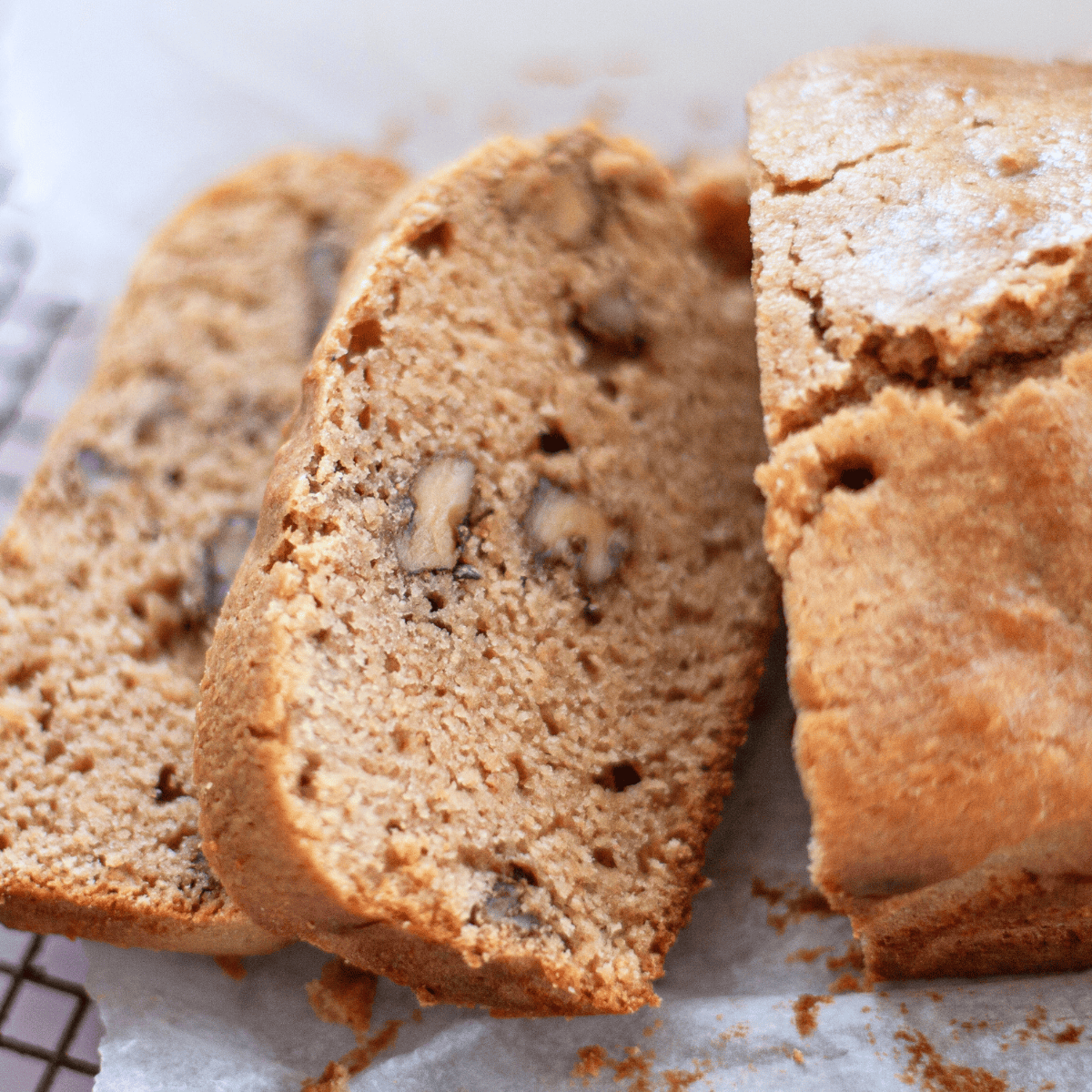 Loaf cakes are a pleasure to bake. They are so simple, adaptable, versatile, forgiving and don't require any fancy icing. They also make an easy-to-transport gift, welcomed by any cake lover.
I have made several loaf cakes in my lifetime: banana, chocolate, chocolate/orange, blueberry, lemon drizzle and now this one, maple and walnut.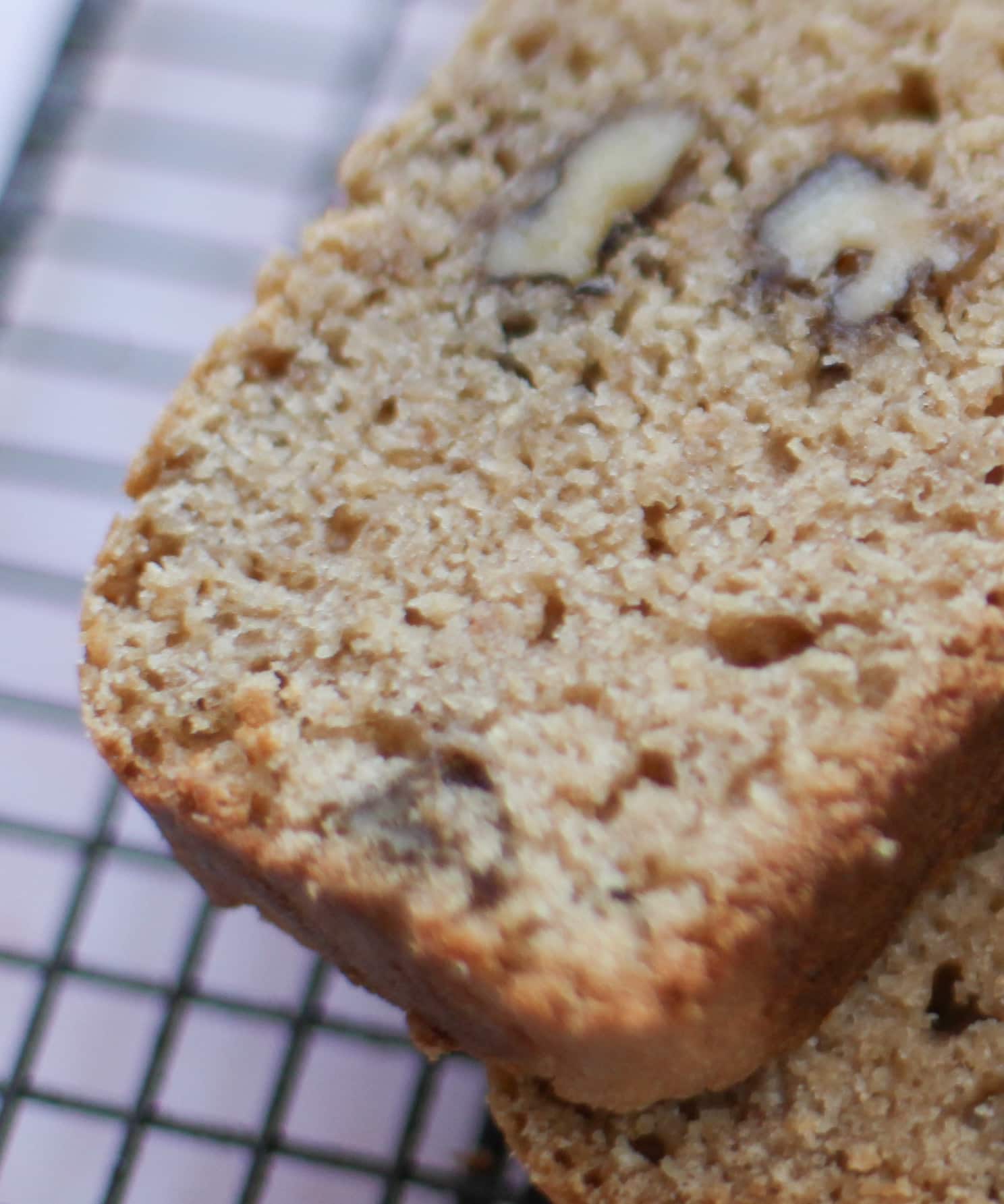 Originally spotted by myself in a vintage issue of Gourmet Magazine from 1962, it was featured on the cover and looked a lot more like bread than mine actually did. Dare I say, it looked a bit drier as well? My version, replacing eggs for vegan cream cheese and using vegan butter, instead of regular. The result was a loaf cake with a complex flavour, sweet without being cloying and incredibly moreish.
I love reading old cooking magazines. They are such a goldmine of knowledge and forgotten recipes, and the writing is like the finest prose. In early issues of Gourmet, you could read some of the early writings of MFK Fisher, James Beard and Elizabeth David, often extolling the wonders of French cuisine, or an obscure cooking method. They are absolutely fascinating to me.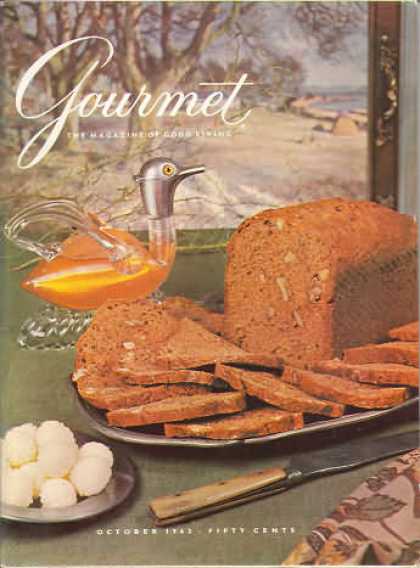 Of course, back then, fine dining, and the access to unusual ingredients was limited to only the very wealthy. Nowadays, you can source most ingredients with relative ease (although not necessarily at a budget price).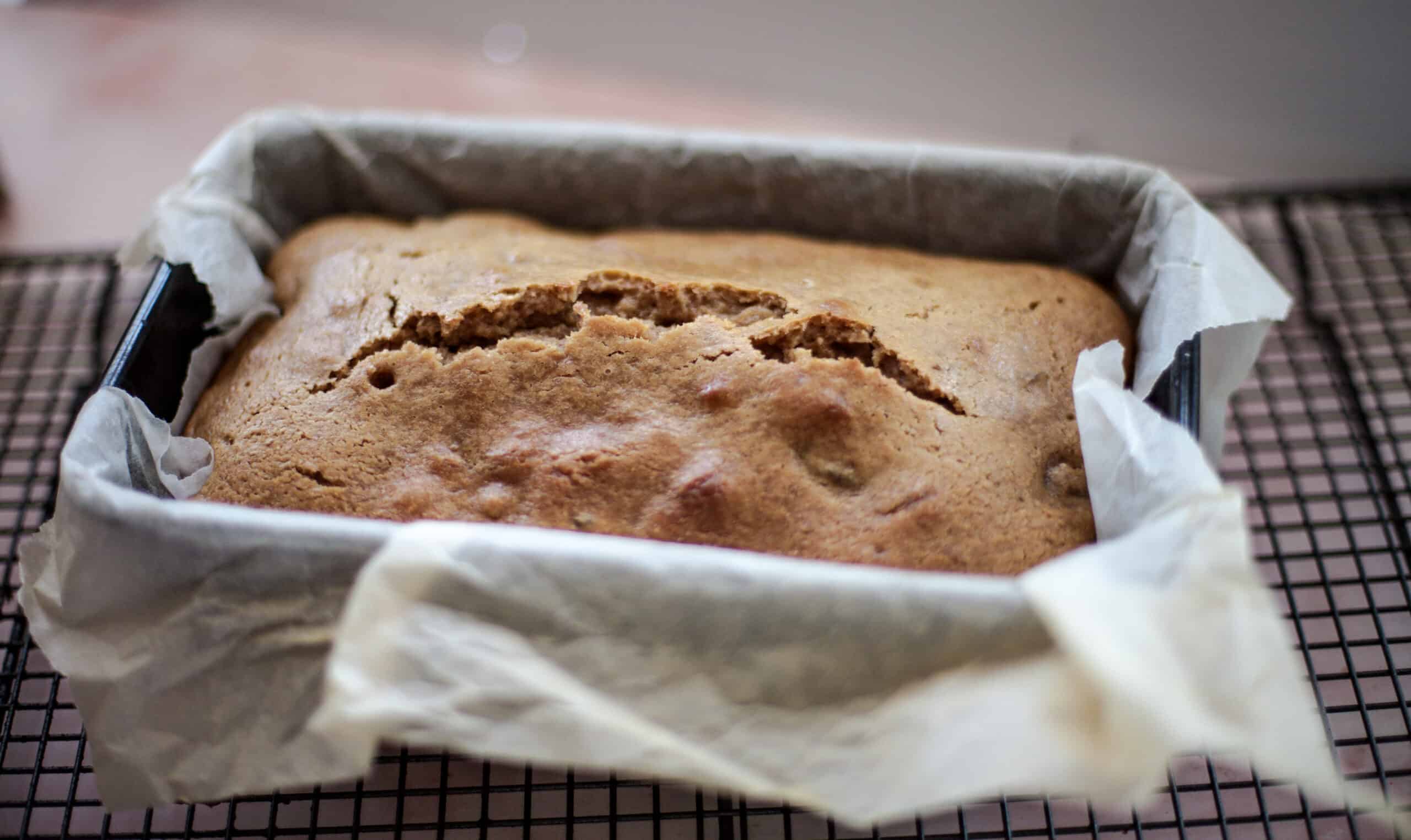 Fortunately, many of the recipes featured in these vintage magazines do not require too much personal investment. This particular recipe does require a cup of maple syrup, and I do recommend you use a good quality one (not a maple-flavour syrup). I have linked below to a large bottle of maple syrup which will last you for several stacks of pancakes.
Maple syrup has a a unique smoky/sweet flavour that works perfectly with the soft crunch of the walnuts, but you could use pecans instead. If you are unable to use nuts, try replacing them with some golden sultanas or chocolate chips.
Ingredients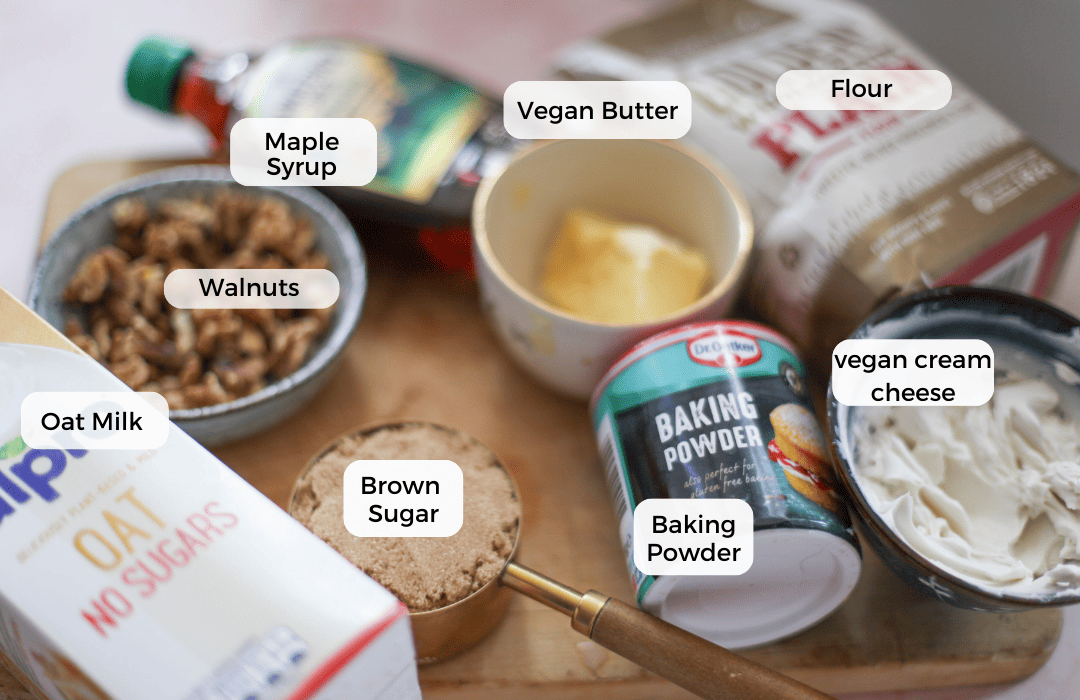 Maple Syrup. Do use a good quality brand as this is a stand-out flavour in the cake
Walnuts. You can omit this altogether and replace with chocolate chips.
Brown Sugar, soft. This adds an additional rich caramel note to the loaf.
Vegan cream cheese, this ensures a soft loaf.
This is ONLY a list of ingredients for the recipe; please see recipe card below for complete printable recipe.
Instructions
In a small saucepan, gently heat the milk, sugar and maple syrup until smooth.
Now melt in the butter
Beat in the cream cheese too. Don't worry at this point if the mixture looks a bit split, it'll all get amalgamated when you add the flour.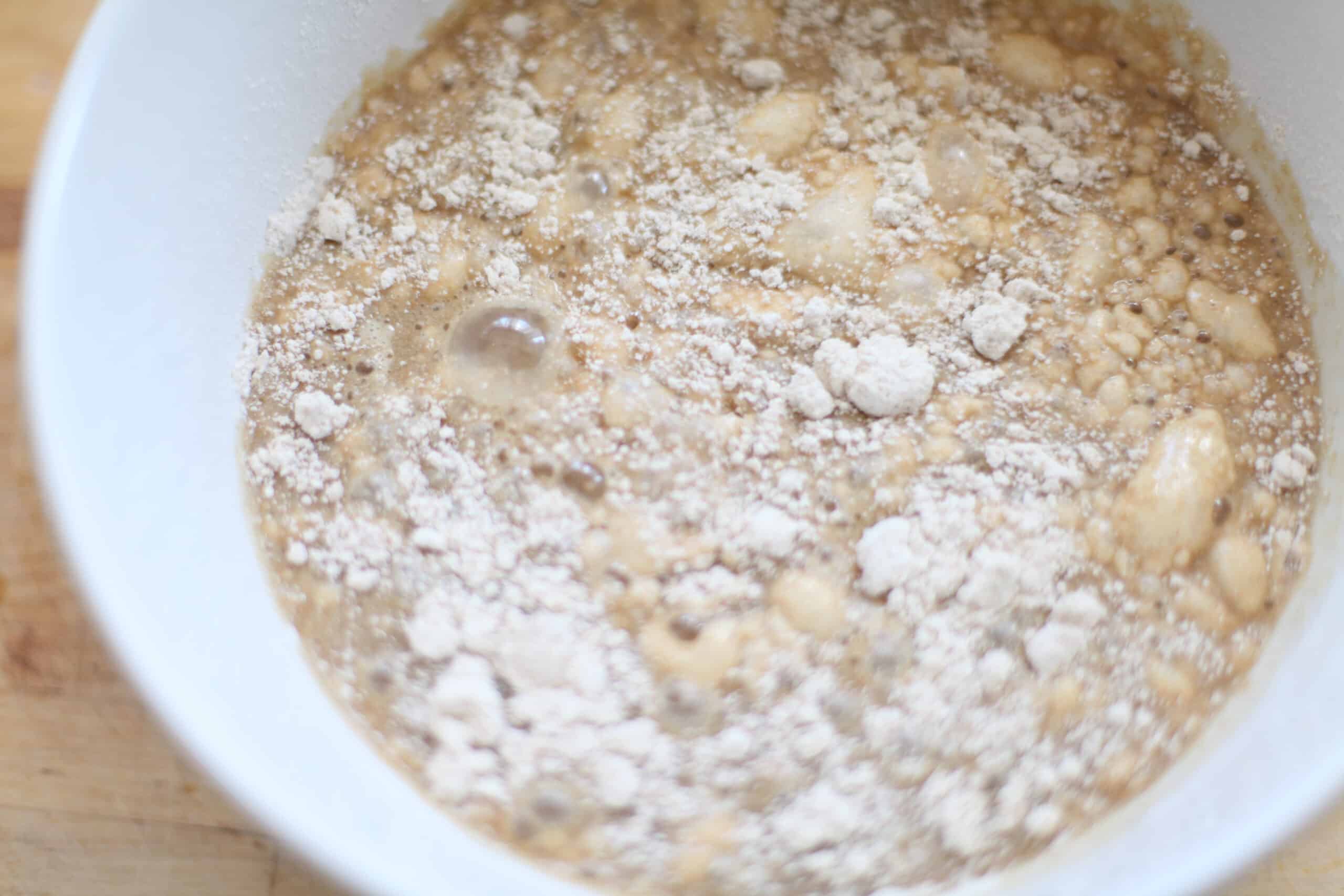 Now add the sifted flour/baking soda and, using an electric hand whisk, beat until there are no lumps left.
Fold the chopped walnuts into the batter
Pour into your lined loaf tin and bake for 40-45 minutes, or until a skewer comes out clean or a thermometer reads at 98c/210f.
Substitutions
Walnuts – use pecans if you prefer, or omit altogether and replace with, perhaps, chocolate chips or sultanas.
Storage
You can store the cooled loaf cake in a tin for 4-5 days.
This cake freezes nicely. Bake, cool and wrap in a couple of layers of clingfilm before freezing. Thaw out at room temperature.
Top tip
If you have the time, try toasting the walnuts before putting in the cake, for a richer, crunchier taste!
FAQ
Can I toast this Walnut and Maple Loaf Cake?
Yes, toasting slices of loaf cake and spreading with butter is delicious!
Walnut and Maple Loaf Cake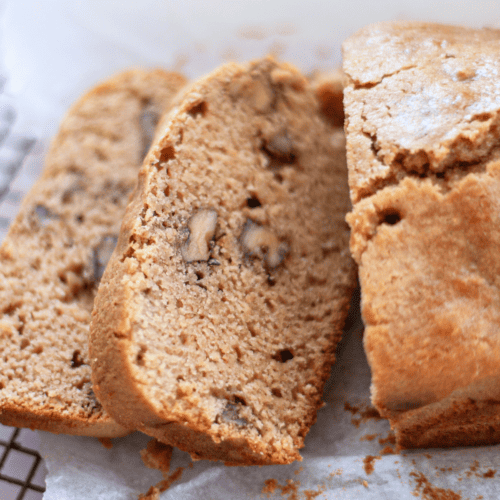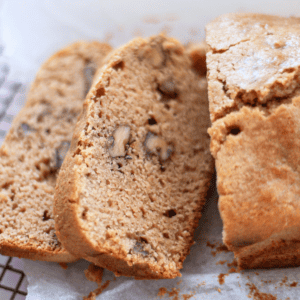 A quick and simple no-yeast bread
Ingredients
1

cup

Milk

I used soya, but you could use almond or oat

½

cup

Brown sugar

1

cup

Maple Syrup

good quality

1

tsp

Vanilla Extract

¼

cup

Butter

vegan, softened

¼

cup

Cream cheese

vegan, softened

2½

cups

Plain flour

sifted

1

tsp

Salt

2

tsp

Baking powder

½

cup

Walnuts

chopped
Instructions
Gently heat the milk, sugar, maple syrup and vanilla extract in a saucepan until the sugar has dissolved.

Stir in the butter until it melts

Now beat in the vegan cream cheese. Don't worry if it doesn't amalgamate completely at this point.

Sift the flour, salt and baking powder into the wet mixture and, using a electric hand whisk, beat until just mixed and no lumps of flour are visible.

Pour into your prepared loaf tin and bake for 40-45 mins, or until a skewer comes out clean.

Leave to cool in the tin for 5 minutes before removing from the tin and leaving to cool at room temperature.
Nutrition Facts
Walnut and Maple Loaf Cake
Amount per Serving
% Daily Value*
* Percent Daily Values are based on a 2000 calorie diet.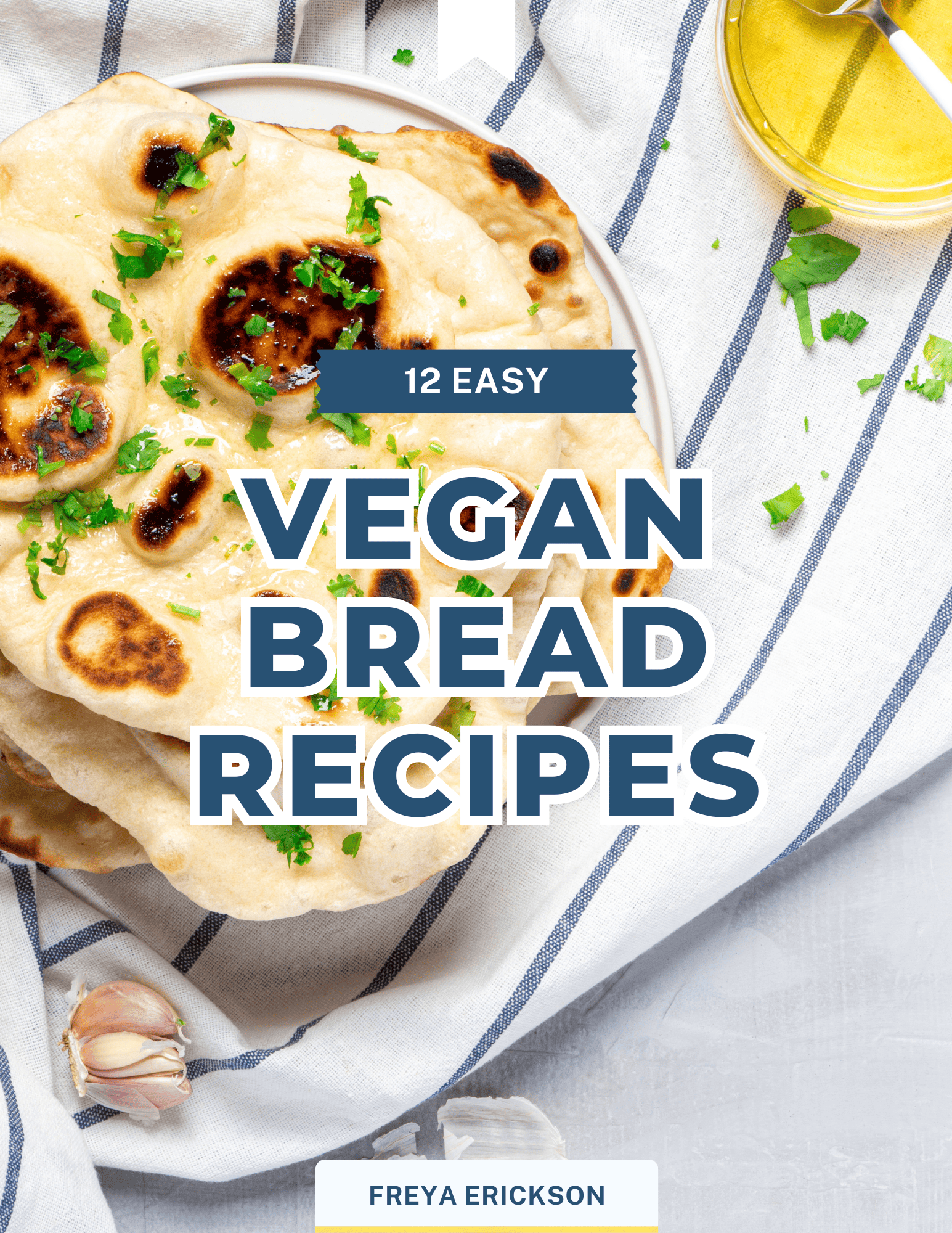 Grab your Free copy
Get Sweeter than Oats in Your Inbox